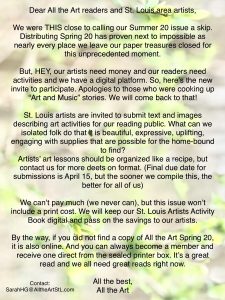 SPECIAL
INVITATION!
(submissions due April 15, at the latest, but may end earlier if we receive more contributions than we can publish before that time)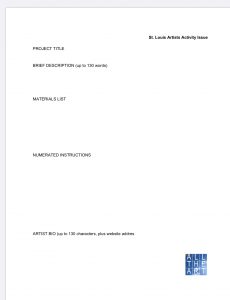 Are you interested in writing for All the Art? We are looking for varied perspectives and voices and will happily work to assist developing art writers.
Submissions are open. 
Submissions (essays, articles, interviews, etc.) must focus on visual art. This broadly includes video, performance, sound art and internet art when the context is within a museum or gallery space or the artist identifies their practice within the domain of visual art.
Submissions must refer to St. Louis regional artists, venues, exhibitions, or events. This includes the wider area surrounding St. Louis- such as St. Charles, Edwardsville, Granite City, East St. Louis… Articles about exhibitions by St. Louis artists that are held outside of St. Louis are also welcome.
Submissions to our "Reviews" section should be written by individuals without personal or work connections to the artists and venues involved in the art event under review. This is not a stipulation for contributors writing for the "Interviews," "Community Voices" or "Commentary" sections.
Submissions may be written in any creative writing style as long as the subject is visual art. Contributors will have the opportunity to pair with a professional editor and will receive a stipend for their work as funding allows.
Mark your calendars with the following important dates:
Fall Issue
Publish Date: September 1
1st Draft Submissions Due: July 1
Theme for Fall 2020: Legacy! (Our 5 Year Anniversary Issue)
Winter Issue
Publish Date: December 1
1st Draft Submissions Due: October 1
Theme for Winter 2019/2020: Art & Parenting!
Spring Issue
Publish Date: March 1
1st Draft Submissions Due: January 1
Theme for Spring 2020: Art Support! (Individuals, organizations and institutions that support our regional artists)
Summer Issue
Publish Date: June 1
1st Draft Submissions Due: April 1
Theme for Summer 2020: Art & Sound! – This issue will be replaced by our digital only issue of art project proposed by St. Louis artists. (see above)
For further information contact Executive Editor / Co-Founder Sarah Hermes Griesbach at sarahhg@alltheartstl.com. 314-704-8878
Content Contributors to All the Art
Jenny Agnew * Veronica Alex * Neil Alexander * Michael Allen * Bruce Alves III * David Alex Ambrose * Jamie Ameling * Pacia Anderson * Kelley Atherton * Luis Cruz Azaceta * Baba Badji * Ornella Bailey * Zach Balousek * Howard Barry * Jenna Bauer * Cbabi Bayoc * Ilene Berman * Roman Beuc * Aziza Binti * Micke de Bitzko * John Blair * Semilla Bland * Lew Blink * Lisa Bobrynzki * Brian Borrello * Mary Jewell Brown * Savannah Bustillo * Marilyn Callahan * Eileen Cheong * Con Christeson * David Coblitz * Pat Cusumano * Tara Daniels * Keith Decker * Kathryn Dierksen * Robert Dorr * Kat Douglas * Rachel Dove * Luke Dubois * Lindsay Dunnagan * Carolyn Dyess * John Dyess * Addoley Dzegede * Yael Even * Sharon Elliott * Bernadette Fernandes * Paul Fernandes * Mark Appling Fisher * Carlynn Forst * Francis Friel * Jacqueline Fritz * David Garin * Pamela Garvey * Carrie Gillen * Sky Goodman * Jeremy Goss * Cameron Gray * Dana Gray * Jason Gray * Srdjan Grubor * Eileen G'Sell * Walter Gunn * Aleida Hertel * Amelia Himebaugh * Amy Hunter * Jim Ibur * Michiko Itatani * Alex Johnmeyer * David Johnson * April Johnston * Amelia-Colette Jones * Claudia Joyce * Margaret von Kaenel * Margaret Keller * Paula Klump  * Joe Kohlburn * Bill Kranz * Katherine Lam * Ashley Lear * Mackenzie Leek * Catherine Leberg * Seth Lewis * Ann Tecla Lundquist * Saaba Buddenhagen Lutzeler * Elvir Mandzukic * Kenna Mangan * Sukanya Mani * Peter Manion * Lauryn Marshall * Lizzie Martinez * Danielle McCoy * Sarah McGavern * Daniel McGrath * Elizabeth McKeown * Eric McLaughlin * Glynis Mary McManamon * Car McMillan * Aaron McMullin * Amy Miller * Molly Moog * Thomas Moore * Robert N. Morrissey * Linda Mueller * Lacy Murphy * Adam Mysock * Chris Naffinger * Tanya M Nevin * Billyo O'Donnell * Da'Shawn Owens * Noemi Oyarzabal * Mark Pack * Thomas Park * Asha Perez * Nelson Perez * Jessica Perez-Brook * Tom Peterson * Elizabeth Pope * Jessica Poschel * Peter Pranschke * Sue Pruchnicki * Ruth Reese * Amy Reidel * Erin McGrath Reike * Megan Reike * Richard Reilly * Fred Requadt * Nancy Newman Rice * Cynthia Richards * Chelsea Ritter-Soronen * Keri Robertson * Marilyn Robinson * Edo Rosenblith * Rachel Sacks * Holly Schroeder * Christopher Seep * Joel Sjerven * Kiarra Lynn Smith * Zack Smithey * Michael Swoboda * Susan Stang * Emily Stremming * Daniel Stumeier * Evan Sult * Wiktor Szostalo * Karema Thabet * Kate Toussain * Keaton Treece * Anne Treeger * Rich Vagen * Paulna Valbrun * Jason Vasser * Ty de la Venta * Amanda Verbeck * Joy L. Wade * Timothy Wagner * Stacey Walker * Maxine Ward * Susan Bawell Weber * Sarah Weinman * Darian Wigfall * Marianne Wilson * Jessica Witte * Ken Wood * Gloria Woodcock * Adrian Wright * Oscar Reid Wright * Ron Young * Natalie Zurfluh